I'm going to cut to the chase. I LOVE this top. The fit is great for me. The subtle feminine shaping makes me feel less schlumpy than most t-shirt patterns. In fact, as simple as it is, it may be my favorite thing I've sewn this year.
I will be making more of these. You have been warned!
Look, ma! I made the stripes line up across the side seams!
Oh yeah. This top rocks.
Pattern Review is hosting a contest for projects made from their selection of top patterns from 2012-2014. Most of the patterns are *very* simple. This is one of the top patterns of 2014 and I do plan on entering this project, if only for the camaraderie. I'm having a hard time imagining a t-shirt being a winning entry, lol.
Here's my review:
1. Why do you think this was voted one of the Best Patterns?
The reasons why this top was voted one of the Best Patters are clear to me:
(a) It's FREE! Woo hoo!
(b) It's a t-shirt--a *very* important staple for most of us.
(c) It has a lovely, feminine shape, which makes it stand out from the crowd of other (free and not-so-free) t-shirt patterns.
2. Would you have made this pattern if it was NOT voted one of the top patterns of the year?
Yes, I had downloaded this pattern long before it was voted a top pattern.
3. How did you make your version of this pattern unique?
I selected a pretty print and made the somewhat subtle horizontal lines match across the side seams.
4. What size(s) did you make?
I made a 42. I did not make a single alteration...and it fits perfectly! Deer&Doe patterns are drafted for an hourglass figure and C-cup busts. Based on this, I could have added a smidge extra room for the bust area, but this knit was rather forgiving, so didn't feel the need.
5. Did you find the sizing accurate compared to the measurements listed on the pattern?
Yes. The pattern is drafted very nicely. In fact, I'm so impressed with it, I plan on trying out other patterns from this company.
6. What fabric and trims did you use? What was the source of your fabric and trims?
I used a soft and drapey single-knit from
Girl Charlee
fabrics.
7. Describe how you used the pattern instructions. Did you follow the instructions literally, did you figure out how to assemble on your own, or a combination of instructions plus own experience?
The instructions are very basic. They do provide some useful information for beginners, but they don't hold your hand every step of the way. I have made many t-shirts over the years, so didn't need them, other than to refresh my memory about the size of the seam and hem allowances.
I used the coverstitch function on my serger to topstitch the hems and around the neckband. I believe a double-needle was suggested in the instructions, which is fine. I just prefer using my serger. The instructions did not have me topstitch around the neckband. I just like to do that because it keeps everything nicely in place.
8. Describe any alterations you made and discuss whether alternations were for fit or for design.
I only made one
minor
modification. I stitched the neckline facing at 1/2" instead of 5/8". It just looked a little bit better to me. 1/8" is something only a Type A personality would fuss over.
9. What did you like and what did you dislike about the pattern?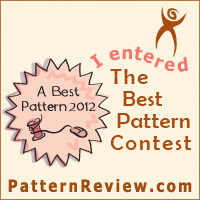 I'm not exaggerating when I say I like everything about this pattern. In fact, I like it much better than my old TNT t-shirt. It's more flattering on my figure.
Some people have commented that they feel the flared hem makes it look a little bit maternity. My figure flares out from top to bottom (Pear shape), so it doesn't feel anywhere near tent-like enough on *me* to make me feel like I'm wearing a maternity top. Someone with a more rectangular or inverted triangle figure might not feel the same way, however.
Love, love, love this top!
10. Would you sew it again? Would you recommend it to others?
I will be sewing lots more of these! I can't recommend it highly enough.